Careers Programme
The Misbourne is keen to ensure that students are equipped with the skills and knowledge to investigate, research and enter their chosen professions.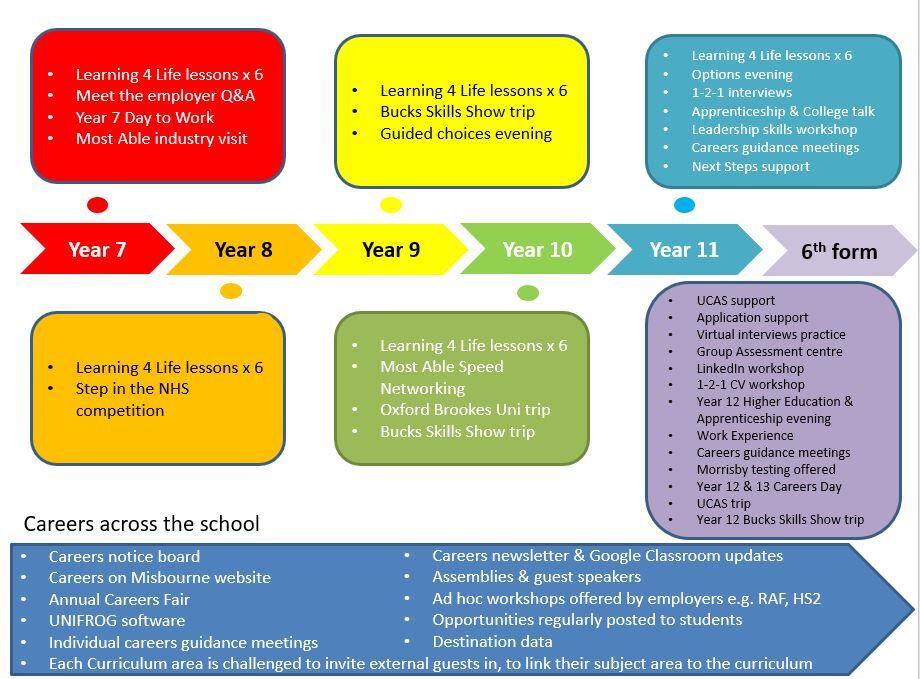 For a full listing of our Learning for Life careers lessons please see our scheme of work and our list of a careers across the curriculum activities
Provider Access Policy
Careers Strategic Plan
More detailed information can be obtained by emailing hhill@themisbourne.co.uk
Impact of the careers programme on students
Each year we review the destination data. We are proud of our students and our low NEETS. This enables the school to understand our students' career paths and shape the careers programme and curriculum going forward.
If you would like more information about our destination data please contact: hhill@themisbourne.co.uk.
Next Review
We are constantly reviewing and improving our careers education and guidance in line with the Gatsby benchmarks. The next review of the strategy will be published June 2024.
Click here to download The Misbourne Careers Education and Guidance Policy.
Click here to download The Misbourne Careers Programme mapped against Gastby Benchmarks.
Careers Leader
Helen Hill
The Misbourne
Misbourne Drive
Great Missenden
Buckinghamshire
HP16 0BN
01494 862869