The Misbourne Partnership
Behaviour for Learning
Impeccable behaviour is fundamental to success in the classroom and the school.
Behaviour for Learning is behaviour that allows for and encourages learning to take place. High standards of behaviour need to be taught, modelled and rewarded. All members of the school community should value learning, promote kindness and strive for excellence in all we do; we emphasise the importance of clear and consistent classroom routines which are always adhered to, alongside a culture of rewards for success.
The self-esteem of all members of our learning community is enhanced by praise, reward and celebration and this is a priority for the school. Young people thrive when they are recognised for trying their hardest, and we firmly believe in 'catching students doing things right.' Our rewards system recognises effort, attainment, our core community values and following The Misbourne Way. Achievement points are celebrated through our regular assemblies, communication with families and our termly rewards events.
Students learn best in an ordered environment, which is also essential for students' mental wellbeing. Our expectations of learning and behaviour are high and made very clear, so that Misbourne students understand the prosocial behaviours that are expected of them, to allow all students to feel happy, be safe and able to learn. Equally, the consequences of not following The Misbourne Way are made explicit and applied consistently.
Poor or unacceptable behaviour will carry a consequence (behaviour points). Behaviour for Learning is reinforced, reviewed and supported by timely and regular communication with families.
Our Values - 'The Misbourne Way'
"We are a community that values learning, promotes kindness and strives for excellence in all we do."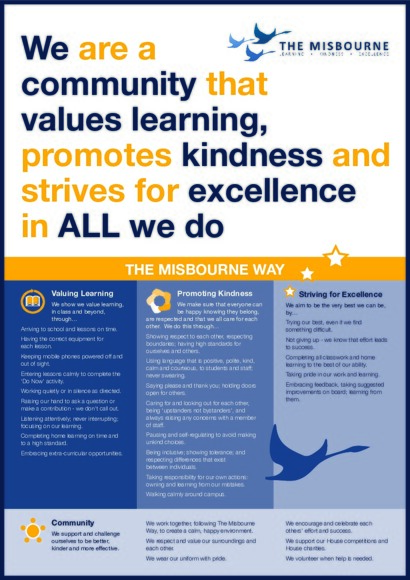 Stakeholder Commitment
In order to continue to grow and develop as an Academy and to provide the best quality education for every young person, we work closely with our key stakeholders and ask that they make the following commitments:
Families will:
Support your child in attending school every day, on time, well prepared for work with the correct equipment and uniform
Support your child at home with reading and homework
Communicate effectively with staff, in accordance with the Academy's communications policy, to jointly resolve concerns
Support the Academy's vision and values
Support the Behaviour for Learning Policy and statement of behaviour principles
Support the Academy's rewards and consequences system, including the use of after school detentions and other sanctions where necessary
Share concerns about your child's education, welfare and behaviour with the Academy directly to enable a positive and constructive resolution (and not via social media platforms)
Take an interest in your child's work and achievements
Support your child with their school work
Ensure your child completes all homework to the best of their ability
Attend family consultation and information evenings and support Academy functions
Ensure your child has good attendance (a minimum of 96-100%) throughout the academic year
Inform The Misbourne of any absence in accordance with the procedures given by the Academy
Support The Misbourne's approach to online safety and not upload or add any text, image, sound or videos that could upset or offend any member of the school community or bring the school name into disrepute
Ensure that online activity would not cause the Academy, staff, students or others distress or bring The Misbourne community into disrepute
Support the Academy's policy and help prevent your child/ren from signing up to online services such as Facebook, Instagram, Snapchat, WhatsApp and TikTok whilst they are underage.
Read and respond to all communications sent out from the Academy, including the weekly Families' Bulletin.
Download the SIMS Parent App and use this to monitor your child's attendance, behaviour and other data.
Update The Misbourne promptly with any changes to contact details for any parent/carer and/or any changes which may affect your child, eg family/home circumstances.
Students will:
Come to school on time every day and with a positive attitude to learning
Always strive to do their best, follow The Misbourne Way and learn from any mistakes or setbacks
Take pride in all that we do as an individual and as a school community, upholding the Academy's vision and values.
Adhere to the Academy's uniform policy and be tidy in appearance.
Be fully committed to school life and participate in its activities inside and outside the classroom.
Inform an appropriate member of staff about any concerns or worries they may have.
Support The Misbourne's approach to online safety and not deliberately upload or add any images, sounds or text which could upset or offend any member of the school community.
THE MISBOURNE WAY
Students are expected to follow The Misbourne Way and uphold the school values at all times, so that we all can thrive in a supportive community.