Using IT and Chromebooks for Learning
At The Misbourne, we look to provide the highest standard of education for our students whilst combining this with innovation and the latest technologies. As a Google school since September 2022, we have successfully integrated Google Workspace for Education into all areas of the Academy. Making use of apps such as Google Classroom and Google Sites has enhanced the way we communicate and share resources with students and families in order to provide the best education possible.
Chromebooks at The Misbourne
We have been excited to launch our Chromebook One-to-One Device programme with Year 7 students in September 2023, and we are looking to roll this out to other year groups over time.
In order to utilise Chromebooks to enhance student learning, we incorporate principles of blended learning. This skilfully combines traditional in-person teaching with modern, evidence-based approaches using digital technologies. It has a range of benefits including:
increased collaboration between students
enhanced communication opportunities
promoting creative approaches to learning
We value the importance of developing student literacy and learning through writing in exercise books and therefore this is still a fundamental requirement in our lessons. We also want students to be prepared for life after they leave full-time education. Teaching with technology helps to provide students with valuable skills that can be transferred into the workplace.
As an inclusive school, we make sure no student is disadvantaged by the decision to have Chromebooks as our 1-1 devices. If you have any questions relating to our Chromebook programme and students in receipt of Free School Meals or Pupil Premium, please contact your child's Key Stage co-ordinator in the first instance.
For the latest version of our leaflet outlining the Chromebook initiative for Year 7 please click here.
Google Workspace & Chromebook Support for Students
Misbourne students are provided with their own individual Google logins so they can access the school network. We have made a range of support material available for students via The Misbourne Student Portal. This includes:
Guides on how to use the main Google apps
How to use Google Classroom for communication with teachers and access Home Learning
Chromebook FAQs
How to log in and access the Student Portal
How to communicate respectfully online
How to organise an effective file and folder storage structure
How to operate Chromebooks
Where to ask for IT help
For quick access, here are some of the most popular student guides:
Student & Parent Google Workspace for Education user guide
Student Google Classroom User Guide
Our dedicated Chromebook support Google site: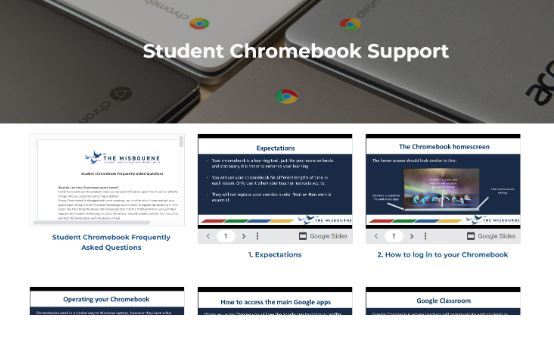 Our Google Workspace Student Support Site: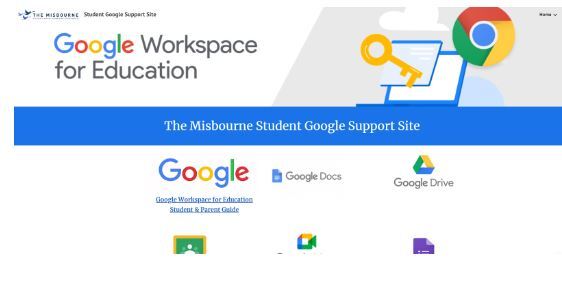 Google Workspace & Chromebook Support for Parents
Please see below for some essential guides for families:
Student & Parent Google Workspace for Education user guide
Google Classroom User GuideParent Chromebook FAQs
Online Platforms & Websites used at The Misbourne
The Misbourne uses a range of online platforms and websites in lessons, home learning and for accessing important information. Please click here for a list of all current online platforms that are used across the school along with how students and/or parents can log in.
Student ICT Acceptable Use Agreement
When making use of ICT within the school, all students are to follow the expectations detailed in the Misbourne Student Acceptable Use Agreement