The Misbourne School system
All students at The Misbourne belong to one of four schools: Attenborough, Franklin, Holmes and Turing. The four inspirational figureheads for these schools were chosen by our students, families and staff and exemplify the vision and values we aspire to at The Misbourne.
Belonging to a school within our main school has many benefits for our students. These include:
Creating a larger pastoral team to support our students and families, providing even more personalised pastoral and academic support.
Fostering an environment of collaboration and community across all year groups to reinforce The Misbourne values of ambition and pride; kindness and respect; equality and moral purpose; resilience and teamwork.
Giving more opportunities to our students for leadership responsibilities and student voice participation
Providing a great opportunity for our older students to work more with and support our younger students, developing key skills such as communication, empathy, creativity and problem solving. This will be combined with opportunities for our younger students to interact with and look up to their older peers.
Promoting a greater sense of friendly competition between the schools with a wide range of events and activities throughout the year.
To help differentiate between the schools, each school is represented by its own colour, which is reflected in the students' ties.
Each school has a Head of School, a Deputy Head of School and School Leaders. Their focus is to ensure that progress, attendance, dress code, behaviour and punctuality meet our high expectations. Each school has a base where students can go to get help, find advice and share their concerns. School base staff deal with emotional and other pastoral issues.
Structure of the school system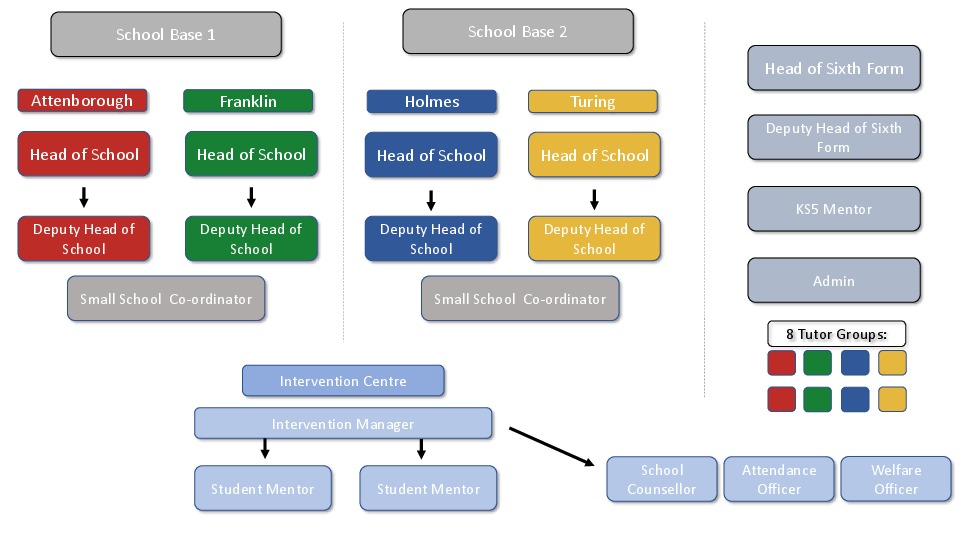 To find out more about each school, please visit the schools' home pages via the menu on the left.